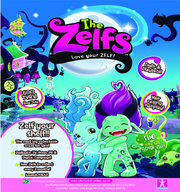 Welcome to the secret garden of Zardenia
[
]
A magical land where anyone is welcome to meet other Zelf fans, make edits and help out in the community, even add pictures. If there are any questions please contact the admin. Have a Zelftastic day!
The Zelfs
[
]
When the twilight moon is in the sky, Zelfs appear in the secret garden of Zardenia. An enchanted world of magical Fabitats disguised as garden stuff. Just see for yourzelf when you explore this magic land and meet all of your brand new, magical friends!
Links of Interest
[
]
Locations

Merchandise

The Zelfs.Com
Rules
[
]
Please follow them to ensure everyone has fun!
Please do not use foul language. This wiki is to be viewable for all ages and maintain a pleasent enviroment.
Do not upload "adult" oriented images or topics.
Spamming comments or someone you may not like will get you into trouble so please keep that in mind.
Do not be mean/rude to fellow members. If someone is mean to you then please bring it up with an Admin first.
Anyone can make articles, but if it does not relate to Zelfs or follow basic Wiki guidelines, it does face deletion.
No fanon content is allowed on any pages other then blogs or userpages.