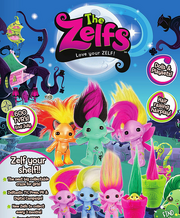 The Zelfs
are a bunch of magical little elf-like creatures inhabiting the land of
Zardenia
. With their cute homes, special powers and unique little quirks, the Zelfs are bound to bring anyone who finds them happiness and a new, true little friend.
Zardenia is a magical world that only appears on nights of full moons. Unknown to the human eye at first glance, are the Fabitats. Homes and buildings disguised as common objects and items found in gardens.
The most well-known of the Fabitats include the Zelk Tree and the Witchbrew Bistro.
Character
Edit
(For more information view the Characters page)
As of now there are a total of twelve Zelf characters. The zelfs come in all sorts of colors, facial styles, hairstyles, and bodily marks. There are currently three types of Zelf, the basic, winged, and uniques.
Merchandise
Edit
(For more information, view Merchandise)
Being a fairly new series has not stopped the Zelfs from producing quite a bit of merchandising already. They come in all shapes and sizes, ranging from the big Super Zelfs, to the teeniest of all, the Lil' Zelfs.
There are even Accessories and playsets!
The Zelfs resemble a very old merchandise series known as Trolls. Around 2005, they had been re-made as "Trollz" but this brand had failed to catch on.
Community content is available under
CC-BY-SA
unless otherwise noted.