Pega Sue
is a __
Zelf
. Born on the national day of the Horse, she has the power of Serious Smarts.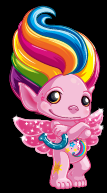 Personality
Edit
A genius that everyone comes to in times of need or answers.
Appearance
Edit
Pega Sue is a pale pink skinned zelf with glittering fairy-like wings. She has many colorful markings decorating her body to match her rainbow themed hair. Her eyes are pink.
Shady Shed
Merchandise
Edit
Medium doll, comes with a hot pink leaf shaped brush and lighter pink horse-shoe shaped charm.
Mini doll (basic, pearl finish, sparkle finish)
"A+ Fortune"
Pega Sue looks a lot like a my little pony named Lulu Luck.
Community content is available under
CC-BY-SA
unless otherwise noted.