Lunanne
is a Moon Fairy
Zelf
. Her birthdate is the 1st day of a crescent moon, her power is discovery.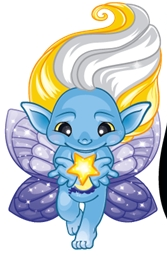 Personality
Edit
Lunanne is a very rare Zelf to come across. Anyone lucky enough to find her is bound to find something very mysterious and rare, for her beauty shines and radiates to all sorts of cool stuff to be found!
Appearance
Edit
Lunanne is a light blue Zelf with white fading marks on the tips of her ears and feet. Her eyes appear to be yellow-white. On her tummy is a dark cloud with a crescent moon and tiny stars.
Lunanne's most well-known feature would be her giant blue gradiant wings resembling those of a butterfly. Her hair swirls towards the left and is golden yellow with the middle being white.
The "Check out yourself" Garden Mirror. Attached to a dark colored tree, strung by silvery weeds is a glass, crescent moon shaped mirror.
Merchandise
Edit
Medium doll, comes with a yellow leaf shaped brush and a yellow cresent moon charm.
Mini doll (basic, pearl finish, sparkle finish)
"Discover your Zelf!"
Lunanne comes from Luna, the spanish word meaning "Moon", and Anne.
Lunanne bares minor resemblence to Trixie Lulamoon from My little Pony: Friendship is Magic. Their skin/fur color is the same, both are seen with white in their hair, and they also have slightly identical markings.
Community content is available under
CC-BY-SA
unless otherwise noted.