Lil' D
is a firesprite
Zelf
. Born on Halloween, his power is bravery.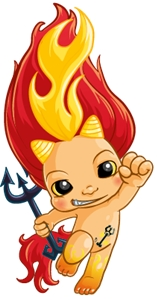 Personality
Edit
Lil D' loves to stir up trouble whenever he can. He does however, have his own garden band on the side, known as the Fireflies.
He has a secret crush on Angel.
Appearance
Edit
Lil D' is a pale orange skinned zelf with golden-orange flames on his legs and bright yellow horns. His eyes are also yellow, and he has a black pitchfork marking on the side of his stomach.
His hair is bright flame red with golden yellow in the middle to make it look like a flame. His tail matches, but lacks the yellow.
Toasty Toes Firepit. Which is essentially a red and gray themed metal/clay fire piece. Circling around it are black flowers and vines, and it has many windows with flames.
Merchandise
Edit
Medium doll, comes with a yellow brush with red pitchfork top charm.
Large doll, comes with a black brush with a gray charm attached to black hair, and a yellow charm with white hair.
Mini doll (basic, pearl finish, sparkle finish)
"Fear is so boring!"
Community content is available under
CC-BY-SA
unless otherwise noted.