Garny
is a Dark Fairy
Zelf
. Born on Friday the 13th, her power is "Awesomeness".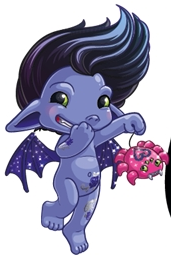 Personality
Edit
A shadow chaser that is very quick on her feet and very hard to keep track of. She's a big mischief maker that finds nothing more fun then causing trouble during the night.
Appearance
Edit
Garny is a purple-blue skinned zelf with green eyes. She has low ears and a pair of dark purple, bat shaped wings covered in sparkles. She can often be found with a cheeky smile.
All over her body (minus the head) are black thorns and purple flowers. She has very simple black hair that curves slightly towards the left.
A very tall, silver-purple watering can with a curved spout. All over it are thorned black vines and a single curled yellow leaf that acts as the roof. There are many round windows and matching shaped door.
Merchandise
Edit
Medium doll, comes with a neon pink-purple leaf shaped brush and a purple spider shaped charm.
Mini doll (basic, pearl finish, sparkle finish)
"I make ya wicked cool!"
Community content is available under
CC-BY-SA
unless otherwise noted.