Elfa
is a __
Zelf
. Born on the final day of Autumn/Fall, she has the power of Laughter.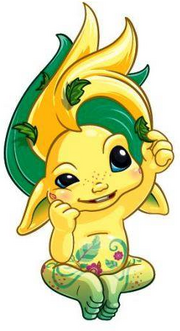 Personality
Edit
Elfa is a playful zelf that usually finds a way to skip from doing her garden chores, such as pulling weeds. She usually spends all of her time focusing on misdeeds and the pranks she can cause.
Appearance
Edit
Elfa is a yellow skinned Zelf with blue-green eyes (brown on the doll) with small freckles between each eye and rosy cheeks. She has floral and blades of grass/vine markings all over the lower half of her body.
Along the bottom of both legs, and inside of her ears are green faded coloring. Her hair is emerald green with three giant streaks of gold, and each part of hair is spiked with leaves strewn through it.
The Zelk Tree.
Merchandise
Edit
Medium doll, comes with a neon pink hair brush and green leaf shaped charm.
Mini doll (basic, pearl finish, sparkle finish)
"Laugh at yourzelf."
"LOL!"
Community content is available under
CC-BY-SA
unless otherwise noted.